WHAT DOES YOUR FUTURE LOOK LIKE?
DISRUPT ?
|
or BE DISRUPTED ?
As CEO, Executive, Director, Board Member,
Entrepreneur, Startup, Small Business Owner, or Solo-Entrepreneur,

will determine whether you
FAIL or SUCCEED . . .
THE WORLD IS CHANGING FASTER THAN EVER.

There are distinct actions proven to accelerate and sustain success.
Are you taking those actions?

JOIN US FOR A

FREE
MASTERCLASS
Empty space, drag to resize
Create the ultimate competitive advantage.

Accelerate innovation and problem solving.

Increase success rate and improve ROI on R&D investments.

Future-proof your organization, and career.

Attract and keep the talent you need to succeed.

Create a framework that enables you to be more successful, enjoy work and life.

. . . and so much more (read on!)

Thursday, September 15, 2022
1:00 PM PDT / 4:00 PM EDT
In this 90 minute MASTERCLASS :
Gain timely insights and information
you can adopt immediately.
Be introduced to an innovative approach based on science that can help
you and your organization
solve problems faster, accelerate growth, and create sustainable success.

LEARN HOW PROVEN METHODS CAN HELP YOU :

Accelerate Success

Accelerate problem solving, collaboration, and innovation for faster results.

Competitive Advantage

Tap into the bottomless well of opportunity to create and re-create competitive advantage, again and again.

Increase Performance and Harmony

Attract and retain talent while promoting performance and harmony in virtual, remote, or hybrid work models.

Improve Margins

Improve ROI of operations and increase success rate of R&D.

Future-Proof Your Business and Career

Turn disruptions into opportunities to protect and promote sustainable growth.

Success, Joy and Fulfillment

Reduce stress, enjoy greater success, personal joy and fulfillment.

WORLD CLASS EXPERTISE
Rebecca Murtagh has helped executives, entrepreneurs, boards, investors, and teams from Fortune 500, Silicon Valley, and multi-national brands to small businesses, and startups on Main Street across numerous industries innovate.

She is a global thought leader, international speaker, author and trusted advisor to CEO's, C-Suite executives, startups, entrepreneurs, and business owners.

Rebecca has decades of real-world experience with success, and failure. She has made it her life's work to share what works - and what does not so others may be achieve greater success, faster.

After 20 years as Founder and CEO of an award-winning digital consultancy, Rebecca is now founder, CEO of Human AI Institute.

Human AI Institute is dedicated to helping humans accelerate growth and create sustainable success.
REBECCA MURTAGH

CEO and Founder : HUMAN AI Institute
AUTHOR, SPEAKER & INNOVATION EXPERT

Trusted Advisor to C-Suite Executives and Entrepreneurs.

Rebecca draws from decades of experience :
Who will benefit from this masterclass?
This 90 minute masterclass address mission-critical information leaders need to be successful in today's disruptive landscape.
This master class is designed specifically to address the unique challenges faced today by:
C-Suite Executives
Executive Leadership
Team Leaders
Board Members
Investors
Business Owners
Start-up Entrepreneurs
Solo Entrepreneurs
and stakeholders
THE QUANTUM AGE
HAS ARRIVED.

Are you prepared to survive, thrive, and succeed?
What is your
IG Score?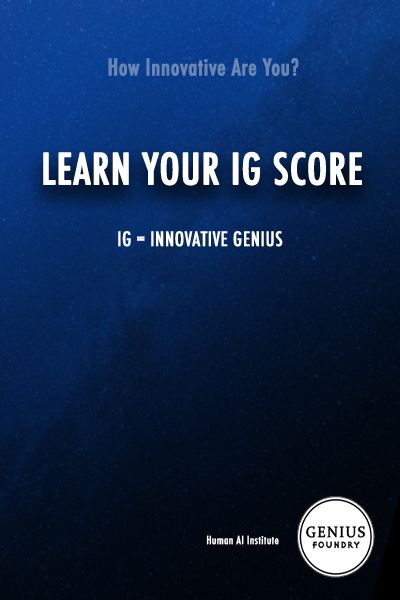 LEARN HOW PREPARED YOU REALLY ARE
to thrive and survive amidst disruptions, like:



Economic uncertainty
Shrinking margins
Attracting and keeping talent
Competitive pressure
Security risks
Operations, distribution, supply chain challenges
Crisis
Unintended consequences from automation and/or technology adoption
Team performance and harmony
Governmental policy
Health and societal disruptions
Attendees will receive their

FREE IG assessment score


via email.